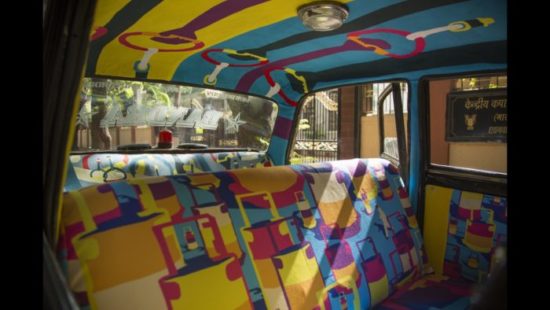 In Mumbai, Taxis Are Works Of Art
In Mumbai, there's few sights as closely associated with the city's incessantly vibrant bustle than the taxi cab. If you've ever been there, you'll remember the endless zipping and weaving of the yellow taxis as drivers navigate the busy streets.
However, those iconic taxis are getting a remarkable and buzz-worthy makeover. Recently, a grassroots visual transformation has launched thanks to the hard work and talent that local artists are bringing to individual cabs. It's a project called Taxi Fabric, a Kickstarted effort to beautify the journeys of riders and drivers alike, as well as give a chance for upcoming designers to make their mark on the city's culture. Taxi Fabric has been successful enough to get the attention of Google, who chipped in to sponsor some cab redesigns as well.
Photo courtesy TaxiFabric.org
Taxi Fabric founder Sanket Avlani grew up in Mumbai, making use of the city's network of taxis frequently as part of his daily life. But when the young illustrator began working as an artist, he started examining his surroundings more closely. With some friends, a plan was devised to print original designs onto fabrics and re-finish the cars' interior with a fully formed concept from start to finish.
The reaction from the city's drivers, riders, and tourists has been immediate and positive. It's easy to see how both drivers and riders benefit from these incredible creations. Drivers love the fact that their cab gets the royal treatment, and it gives them a way to delight their passengers on a daily basis. Passengers, too, are amazed and excited to see the unique designs, and are curious to see what other taxi art is around town.
Each cab takes about 2-3 weeks to transform, as each one requires a custom design that involves communication with the drivers. Some drivers are enjoying being a part of the collaboration, while others are happy to receive a free facelift to what is essentially their everyday office!
What's next for Taxi Fabric? They're taking their idea beyond the boundaries of Mumbai, and expanding to other parts of India. Meanwhile, they're considering releasing a version of their fabric prints for private citizens' cars. Until then, it looks like taxis are the sharpest ride in town!
20 Jul, 2016 | 0 Comments