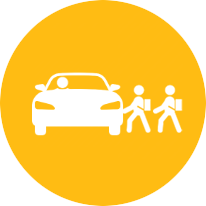 If you need a ride to school for yourself or your kids, LA City Cab has you covered. We know that many parents are facing stressful schedules, and often struggle with logistics to ensure that their kids get to school on time. If that sounds like you, whether it's for one morning or on a regular basis, our Los Angeles taxi service can provide reliable and safe school transportation.
Our professionally trained drivers are fully licensed, vetted, and screened using LiveScan technology: the same process used with teachers and law enforcement personnel. LA City Cab's drivers will make sure that every child gets into the building before they leave, so that parents can rest easy knowing that an honest member of the community is looking out for them.
With LA City Cab, it's easy to set scheduled pick-ups for parents who work after school has already let out for the day. As a trusted transportation company with a sterling reputation in the greater Los Angeles community, LA City Cab is dedicated to helping families get a taxi to school when they need it most. Providing a ride service for kids and their families is not a responsibility we take lightly: we take pride in making transportation as easy and stress-free for parents as possible.
Our school runs are just one way that LA City Cab is developing innovative solutions to help California residents and travelers get where they need to go.