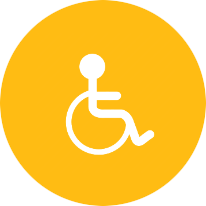 LA City Cab is immensely proud to be an inclusive transportation company that provides wheelchair accessible taxis in Los Angeles, no matter where you are. Our specially equipped vehicles can accommodate people with wheelchairs, oxygen tanks, or other accessibility needs. It's so vitally important to our company that those with physical challenges or extra needs have the same access to transportation in Los Angeles as everyone else.
What's more, our drivers are hand-selected to be courteous, helpful, and friendly people that work with your unique needs to help you get where you need to go without stress, worry, or anxiety.
Planning to meet a friend for dinner? Heading to a doctor's appointment? Catching a Dodger game? Don't let worries about accessibility issues slow you down, when LA City Cab is ready to give you a ride in style 24/7. Whether you call, email, or hail a cab right from your smartphone, LA City Cab is ready to provide wheelchair accessible cabs at a moment's notice.
We can't wait to show you the LA City Cab difference when it comes to accessibility: we make transportation a breeze!